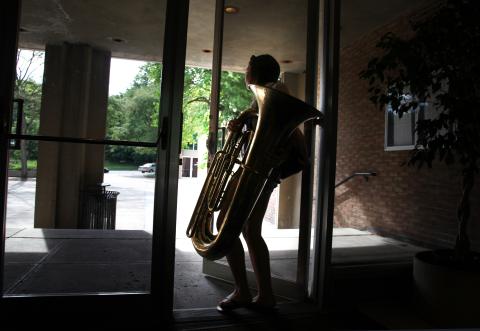 Free Mason/Angell Hall Classrooms via SOAS (only available Fall and Winter semesters)

There are a limited amount of classrooms available for free in Mason and Angell Hall (approximately 10). These rooms become available by the first day of classes on a first-come, first-serve basis. Student Organizations are not entitled to free rooms.
To book a free Mason/Angell Hall classroom, an Authorized Signer must make the reservation via SOAS's online reservation calendar located on our website. Rooms are always available 30 days in advance. For example, on September 1, you'll be able to make reservations through October 1. On September 2, you'll be able to make reservations through October 2. To maintain your reservation, your group must be in good standing with the University.
Additionally, your group is only permitted to make 5 reservations per day. If your group is not in good standing with the University or you made more than 5 reservations on a single day, your reservation(s) may be revoked. SOAS holds the right to cancel your reservations if any of these requirements are not met.
By reserving this room as an Authorized Signer, you understand that you and your organization take full responsibility for assuring that the room and equipment will be left in the same condition as it was found. If you find the room to be in poor condition when you arrive, you will report it to the scheduling desk immediately, or your organization will be responsible for the cleanup and any necessary repairs. 
Quick Reminders
Rooms are available for free in Mason Hall for organizations
Rooms are available 30 days in advance
SOAS cannot reserve rooms for you in person or over the phone. However, if you need help navigating the system, we would be happy to walk you through it.
A booking limit of up to five rooms a day is allowed.
Free rooms are unavailable over the summer
Rooms in the Idea Hub
CCI handles the rooms in the Idea Hub on the second floor of the Union. For more information about the rooms available in the Idea Hub visit CCI's Idea Hub Page. To reserve a room, click here. 
Billable LSA Room Reservations
Student Organizations can request room rentals through LSA Instructional Support Services. These rooms have a cost associated with them depending on the seating capacity of the room and are payable by shortcode.
The capacity of a room can be found here. SOAS does not have access to check availabilities of these rooms.
Rooms in the Michigan Union, Michigan League & Pierpont Commons
There are rooms available in the different University Unions, but SOAS cannot reserve these rooms for you. Some do have fees associated with them, but some of the spaces are available to student organizations free of charge.To book these rooms, visit Conference & Event Services.
University Unions is offering a Student Organization Event Funding Assistance Program to help offset expenses associated with hosting events at venues other than the Michigan Union. All registered student organizations in good standing are welcome to apply provided the requested event is similar to one they would have hosted at the Michigan Union.
Funds are available for Fall and Winter Semesters. For more information including application deadlines please visit https://campusinvolvement.umich.edu/article/funding-sources-your-organizationprograms.
Other Rooms Around Campus
You can use this interactive map to see other possible rooms you may reserve all around campus.