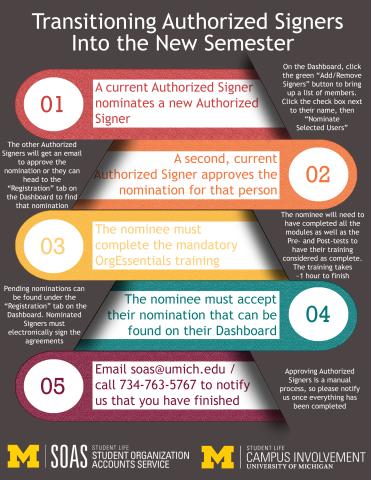 How To Make New Leadership Authorized Signers
Whether it's graduation, study abroad, or new member recruitment, there are plenty of reasons why a group's Authorized Signers may need to change going into a new semester. The process can get a bit complicated, so please refer to the following steps below:
Note: This process should only be followed from September - February. On March 1st, your group will need to register for the new academic year in order to nominate Signers. Between February 15th and 28/29th, editing Signers is not available.
A current Authorized Signer must nominate new Authorized Signers by logging onto the SOAS Dashboard. Once there, click the green "Add/Remove Signers" button to bring up a list of members. Click the check box next to their name, then "Nominate Selected Users."
A second, current Authorized Signer must then approve the new nominations. All Authorized Signers will receive an email to approve the nomination, or they can head to the "Registration" tab on the Dashboard to find that nomination.
The nominee must then complete the mandatory OrgEssentials training. The nominee will need to have completed all of the modules, as well as the Pre- and Post-tests, in order to have their training considered complete. The training takes ~30 minutes to finish.
The nominee must then accept their nomination which can be found on the SOAS Dashboard. Pending nominations can be found under the "Registration" tab on the Dashboard. Nominated Signers must electronically sign the agreements.
Finally, SOAS will manually move over your new Signers. This is not an automatic process, so you can expect a slight delay. If you need to expedite this process, feel free to email us at soas@umich.edu. 
Important notes to remember:
Old Signers will remain as such unless they are requested to be removed. If it is necessary to remove Signers, please do so after new Authorized Signers have been added.
Groups still cannot have 10+ Authorized Signers or Advisor faculty/staff as Signers.
Before removing any Signers, be sure that it will not drop your total below the minimum requirement of 3.